Back on
January 13th
, I gave you an abbreviated list of toxic chemicals to avoid. Now, I'll help you figure out where to find those chemicals, especially if they aren't on the label.
I like the site
www.drugstore.com
.You can enter almost any product and look up the ingredients.
Here's an example. Let's look at
Cetaphil Daily Skin Cleanser, Normal to Oily Skin
. Its ingredients are: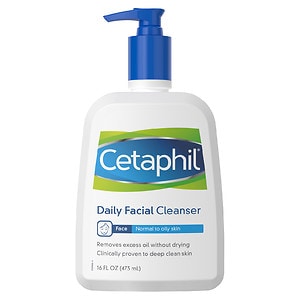 Water (Purified),

Sodium Lauroyl Sarcosinate

, Acrylates/

Steareth

20 Methacrylate Crosspolymer, Glycerin,

PEG 200

Hydrogenated Glyceryl Palmate,

Sodium Laureth Sulfate

, Butylene Glycol,

PEG 7

Glyceryl Cocoate, Phenoxyethanol,

Masking Fragrance (Parfum)

, Panthenol,

PEG 60

Hydrogenated Castor Oil, Disodium EDTA,

Methylparaben
I've highlighted the toxic ingredients from this previous list in red. This does NOT include all of the toxins in the product. That said, I might as well give you a list of more toxic chemicals to avoid.
More Toxic Chemicals to Avoid
Talc: Talc belongs in the same family as asbestos and is dangerous to breathe. It has also been linked to ovarian cancer.
PVP/VA Copolymer: These chemicals are derived from petroleum and are used in hairsprays, and cosmetics. They are considered toxic and contribute to foreign bodies in the lungs of sensitive people.
Isopropyl Alcohol:

This is another petroleum-derived substance that is used in anti-freeze and shellac. Inhalation of the vapor or ingestion can lead to

headaches, dizziness, mental depression, nausea, vomiting and even coma.
Mineral Oil: Mineral oil is another petroleum derivative. It coats the skin like plastic wrap, preventing it from breathing, absorbing nutrients and excreting toxins. This slows the skin's natural cell development, causing premature aging. Baby oil is 100% mineral oil and bad for your baby's skin.
Toluene: Toluene can be found in many nail products, such as nail color. Exposure can lead to headache, dizziness, fatigue, eyes, nose & throat irritation, and reproductive and developmental harm.
Benzyl Acetate: This is a solvent, often hidden within the ingredient "fragrance." It is linked to pancreatic cancer and is a possible neurotoxin.
Bronopol: This is a preservative, which is already restricted in Canada. It is toxic to the immune system, skin, and lungs.
Quaternium-15: This is another preservative that breaks down in formaldehyde. Exposure leads to allergic reactions and dermatitis. It can be found in skin and haircare products.